About us
Floris Kalwij is the founder of Floris Watersport. He once started by trading a single canoe against two outboard motors. After overhauling these engines, they were sold and new engines were bought from the proceeds; all from his parents' garden!
This hobby turned into a livelihood, and in 2005 Floris decided to rent a warehouse in Geertruidenberg. This was where Floris Watersport began.
Due to lack of space, the company moved to Oosterhout in 2008. The company changed slowly: employees were hired and more (and larger) recreational craft were purchased, and the smaller boats and outboard motors disappeared.
The boats became ever larger and more luxurious, so Floris decided to search for a waterside location. We have been located in Drimmelen since 2013, with a showroom, an outdoor area and also some mooring space in the harbour.
Floris Watersport has grown into a wonderful and healthy business with five employees and sales of more than 150 boats a year.
We are passionate about our work, and take great pleasure in working with a small team in a wonderful water sports company.
TAKE A VIRTUAL TOUR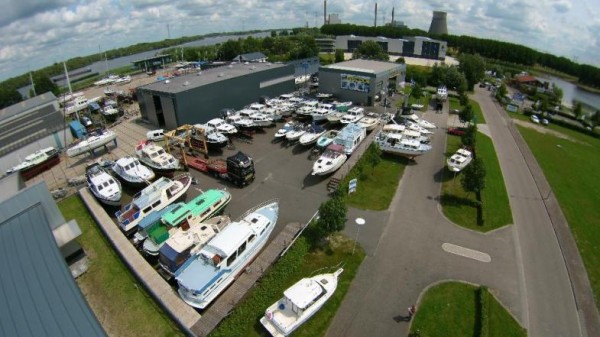 OUR APPROACH
We purchase boats directly from individuals, traders, companies or via insurance companies. All boats are owned by Floris Watersport, we are not intermediate agents for boat sales.
We would like to clarify what you can expect from us when you buy a boat from us.
All boats are supplied ready to sail, which means that the boat sails properly and nicely, and that the engine and drive train are sound. Unfortunately, we cannot give guarantees on any other parts of the boat.
In principle, the boat is sold in the condition in which it can be viewed and inspected at our location. We have checked the boats for general faults, and if we are aware of any (possible) defects, we will always let you know.
Because all boats are different and they often have a lot of electronic equipment on board, it would be too costly and time-consuming for us to check everything on each boat. This is how we keep our prices competitive. Of course, it is possible for us to help you perform general checks of the various electronics.
After you have decided to buy a boat from us, we will make up a quotation that clearly states the agreements (delivery date, things to be checked, etc.). We will also ask you to make a deposit. After your deposit is received, a test sail can be arranged. We can only refund your deposit if the boat does not sail as it should, or if the sailing characteristics of the boat are not to your liking.
After the test sail and receipt of the remaining balance, we will get the necessary paperwork in order for you to become the proud owner of the boat.
We can also discuss a part exchange of your boat. This is on the understanding that the maximum trade-in amount will in principle be no more than half the value of the boat you wish to purchase.
TRANSPORT
For a fee, our truck can deliver the boat you purchased from us anywhere in the Netherlands. We can also discuss international transportation of your vessel. We only transport our own sold vessels.